Yes, it's Halloween. The happy fall holiday that for most folks means pumpkins, ghosts, costumes and trick or treaters. If you're a knitter it also means, "hey, you better get some holiday gifts done."
This Yellow Seed Stitch Beret is the perfect quick      holiday knit that still feels like fall. Chunky yarn,   lovely fall color, and an easy project. I'm headed out on a flight to Portland tomorrow, and I'm taking this project along. The yarn is yummy Julie Asselin Ankara in warm autumnal Jaipur.
We do a bit of traveling this time of year, and I always like to have a project to take along. Something easy to memorize, so I'm not digging around for my pattern, and relatively small, so I have a sense of accomplishment when I return. By Thanksgiving I plan to have a few of these hats finished up – one for me, and two more for gifts!
---
Winter is the time to start thinking about cozy, soft knits - both for projects and for wonderful things to wear. Even better if they're quick projects. That way you can both knit and wear them before spring arrives!

This is truly the year of the big yarn. I don't mean the "next big thing yarn," I mean BIG yarn. We're seeing chunkies and bulkies pop up everywhere this autumn, and nothing is more fun than a special hand-dyed bulky. Julie Asselin's Yotta is my new favorite.

Here's the thing: I'm not always a bulky yarn fan. They can be rough or they can look like roving for little kids. It takes a special bulky to win my heart. It has to be soft enough to feel good in my hands and garment, and look sophisticated enough to create a nice look. Yotta does both.


My sample skein arrived in a variegated (I'm offering Julie's lovely semi-solids to you) with a range from purple to orange. The texture is soft, not toothy at all, and it has a brushed hand that makes you want to pet it. The single strand is thick, like a pencil roving, but has enough twist to stay put. It also feels like it's the tiny bit felted, meaning it's going to hold up nicely when knitting.


I wanted to find just the right pattern, so I chose one that Julie herself designed for Yotta. Melanie is a cross between a cowl and a necklace, and interesting combo that lightens up the thickness of the yarn. It's available for free on Ravelry. Yotta would also make a great Gap-tastic Cowl.

You can see the wonderful stitch definition here. This a fashion-forward, modern-looking yarn. Anything you choose to make with it will have a young, edgey vibe. This is the yarn to take down to your local coffee house, grab a cup, then sit outside on the sidewalk and knit. And when you're done, do the same and wear your new cowl.
---
Have you ever been to a really big yarn show?  You know the kind I mean - the kind with acres of booths full of fantasitc yarn you've never seen anywhere else.  You know that feeling you have when you stand in the doorway, really excited and wondering just how you'll choose the perfect yarn to take home with you?  That's kind of what it feels like to choose yarn for our store.  Sometimes I seek it out.  Sometimes you tell me what you like.  And sometimes it just kind of arrives right on my doorstep.  That's the case with our newest yarn from Julie Asselin.
One morning in June I got this message on our Facebook page:
"Hii!
My name is Julie and I own a small hand dying company in Québec Canada.
I'm contacting you because your shop seems really lovely and full of things I would have picked out myself!!!!"
Really, how could I resist an opening like that?  I'm always looking for something new and unique.  Plus, I have some relatives in Quebec, and the yarns on her Facebook page looked nice, so I said I would take a look.  Boy, am I glad I did.
In the coming weeks we learned a number of things.  First, Julie is the only person in years to be able to spell and pronounce my name without assistance (In case you didn't know, I was named after the French woman my grandfather brought home from Paris after WWII.  She was not my grandmother.  Ask me about it some day and I'll tell you the story.)  There aren't many Michelines here, but it's a rather common name in Quebec.  That point alone might have moved me to buy her yarn.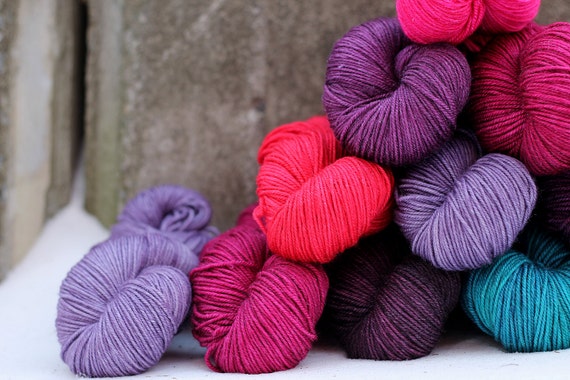 Next, we learned that although Samantha has had two years of French, she has not learned any useful words pertaining to knitting or yarn. I was hoping there was an opportunity for extra credit, now that she can translate phrases like "fingering weight" and "superwash" into French, but there isn't.  I think her school should seriously take a look into their curriculum.

Finally, we learned that Julie is producing some seriously sweet yarn up there in Canada.  We engaged in copious oohing and aahing over the samples she sent, both because of the color and the feel. Her semi-solid colors are softly heathered, and when you look close, have a myriad of subtle hues.  The sample skein in Ancient Gold looked like a golden yellow at first glance, but closer examination showed variations from a warm bronze to a pale gold, with some green and brown tones thrown in.  I was captivated by her single-ply offerings.  I've come to love the stitch definition single-ply yarns give your projects, but they tend to be delicate and break easily without the structure of multiple plies.  Not Julie's yarns. They hold up every bit as well as a multi-ply yarn, while still showing off your stitches with the smooth single structure.
I really love Fino Simple, her fingering-weight single-ply merino/cashmere/silk blend, so it's one of the two I chose to debut on the website. It's hard to describe how it feels.  Light, soft, magical, like knitting with butterflies or kittens.I'm working on a pattern for a textured cowl that shows off that the lovely color and structure.  I'll post it here for you when it's done.  Meanwhile, I suggest Geology Shawl. The skeins are a generous yards, meaning you could make a pair of socks and some fingerless mitts, a hat and gloves, a large scarf or small shawl.  It also means crocheters can complete a hat, scarf or mitts with only one skein.
Since creating beautiful yarn is such a personal effort, I thought I would let Julie introduce herself, and her yarn, to you in her own words:
Tell us a little about yourself and your yarn
I've been a knitter for most of my life. I started at four being taught by my mother and grandmothers. I am always curious about learning new techniques and making projects that teach me something. Aside from knitting I also like to cook. It's a passion I share with my husband Jean-Francois (I often share recipes I like on my FB page!) and I'm a big music fan.
I made a lot of research about fibers and the yarn making process when starting my yarn line. Quality is really important to me. All the yarns that I use are spun in Canada and in the US. I'm constantly collaborating with the mills to create great bases. I like to be involved.
How long have you been dying yarn?  How did you get started?
I've been dyeing yarn for three years now, selling it more seriously for a little more than one year. I started because, like a lot of dyers, I wanted colors/fibers that I couldn't get anywhere else. I started looking online at tutorials and took a shot at it. Soon I started making some for my friends and eventually my LYS started carrying it. I started receiving calls from other stores and decided to invest more time in this business. It is now my job.
What do you think makes your yarn special?
I come from a fashion backround so I'm always thinking ''Do I want to wear this?'' ''Would that make a great sweater?'' I want my colors to mean something . When I look at a color I have to think ''This is exactly what I was looking for!'' I want that to translate to my customers.
What are your favorite colors and what inspires you?
Quick answer would be: All of them! But that's too easy. It changes with seasons and with what inspires me at a certain period. I'm definitely more of a black person in terms of neutrals, and right now i'm big on reds and blues...but ask me again in a couple months and it could be green or pink! My inspiration comes from nature(because where else do you get better color combinations?) and from food. A lot of my colors have food names! Also sometimes, I just sit and like to look at pictures/art, listen to music and some colors will come to me.
We have Fino Simple and Hektos in six colors each, including the lovely Ancient Gold. We're looking forward to adding more of Julie's yarns and colors in the next few months.  Keep your eye on the store, but better get some of er yarn to knit while you're waiting.
---